I'm happy to announce that I now have some cotton tote bags in my Etsy shop!!!!
These have been in the works for about a month, in between other projects and when I wanted to keep my hands busy (usually during movies with my husband) by cutting quilt pieces :) I'm so excited to list them, finally! My younger sister was home from college this weekend, so she modeled everything for me!
I learned how to quilt in middle school, when I did it for 4-H one year. I knew it was for me :) After that, I made a quilted-front pillow from fabric from my grandma's stash. Still my favorite pillow!
During my freshman and sophomore years in high school, I made purses for myself every few weeks--sometimes
every
week, just because I love to sew! I made my first quilted/pieced-front purse as a sophomore, and within a week a friend asked me to make one for her, too!
Every time I make a quilted purse, people love it. So, what was I going to do with a bunch of fabric scraps too small to use for skirts (or already used for skirt panels and I didn't want to make too many of the same design!)? Quilted purses, of course!
First, the non-quilted purse--still made of vintage fabric, though! I call it the
ABC School tote
(click on name for listing). What would you name it?
It has birdhouses, school books/supplies, and letters on it :)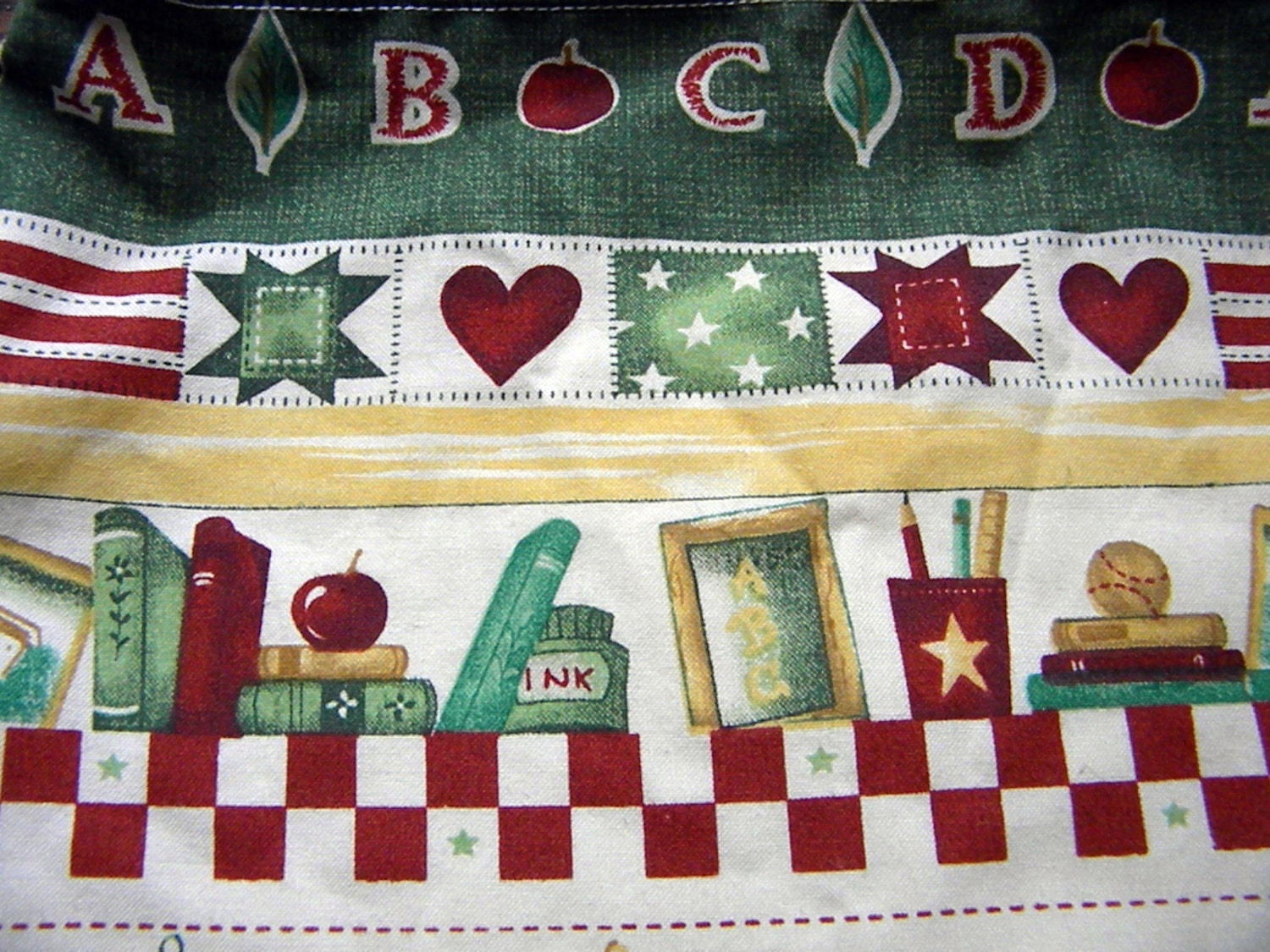 Front and back are the same, lined with white fabric.
Sadly, I only had enough fabric to make one of these.
here
for listing)
This one is so pretty and delicate in blue and light orange! I love it!
The first fabrics I experimented with for these totes, the squares are in an interesting design.
Backed with the beautiful blue calico fabric and lined with vintage ivory.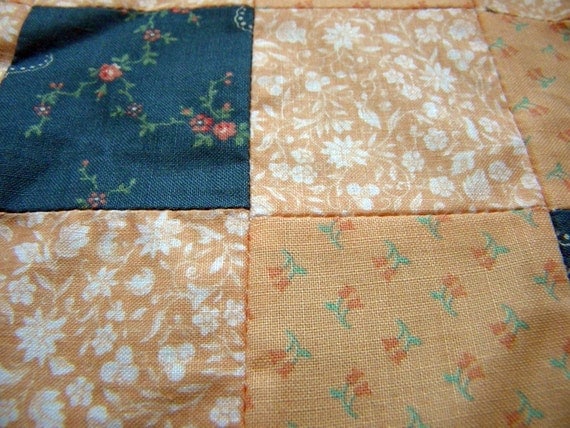 This bag is perfect for library books, sewing supplies, or as a small reusable grocery bag! It's 12 inches square.
I have two more of these ready to sew. That makes 3!
here
for listing)
This fabric pairing was a crazy idea, but I think it works :)
I found fabric that had 4" squares all over it, each square filled with a vegetable/fruit, spice, or flower basket. It was just calling to be cut up and turned into a quilted tote!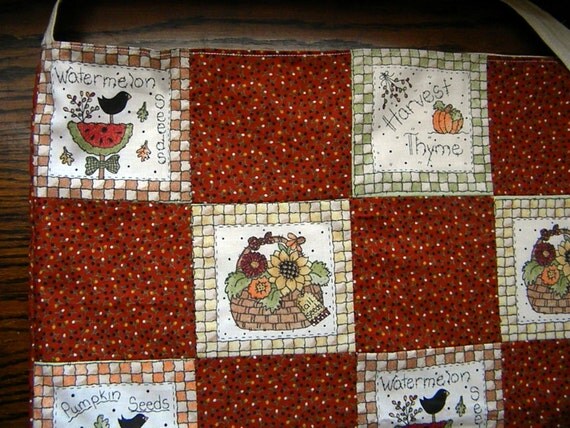 The burnt orange dot fabric is a strange match, but it makes it so fun and fall-ish!!! It's backed with the same. I had to buy muslin for the inside, though.
This tote is large--about 19 inches square, so it's great for grocery shopping! Seriously, if this doesn't sell before/at the craft show in November, I'm going to keep it for myself! I have enough squares for at least one more.
here
for listing)
This is my favorite!!!!!! It's the most like what I used to make, with fun fabrics everywhere!
I used many of these 6 fabrics in my
brown skirt
, but I still had a lot left. I found that some had been cut into 3 & 1/2" strips (why did my grandma do that? maybe for a quilt?), so I cut those into these small strips for a log cabin design!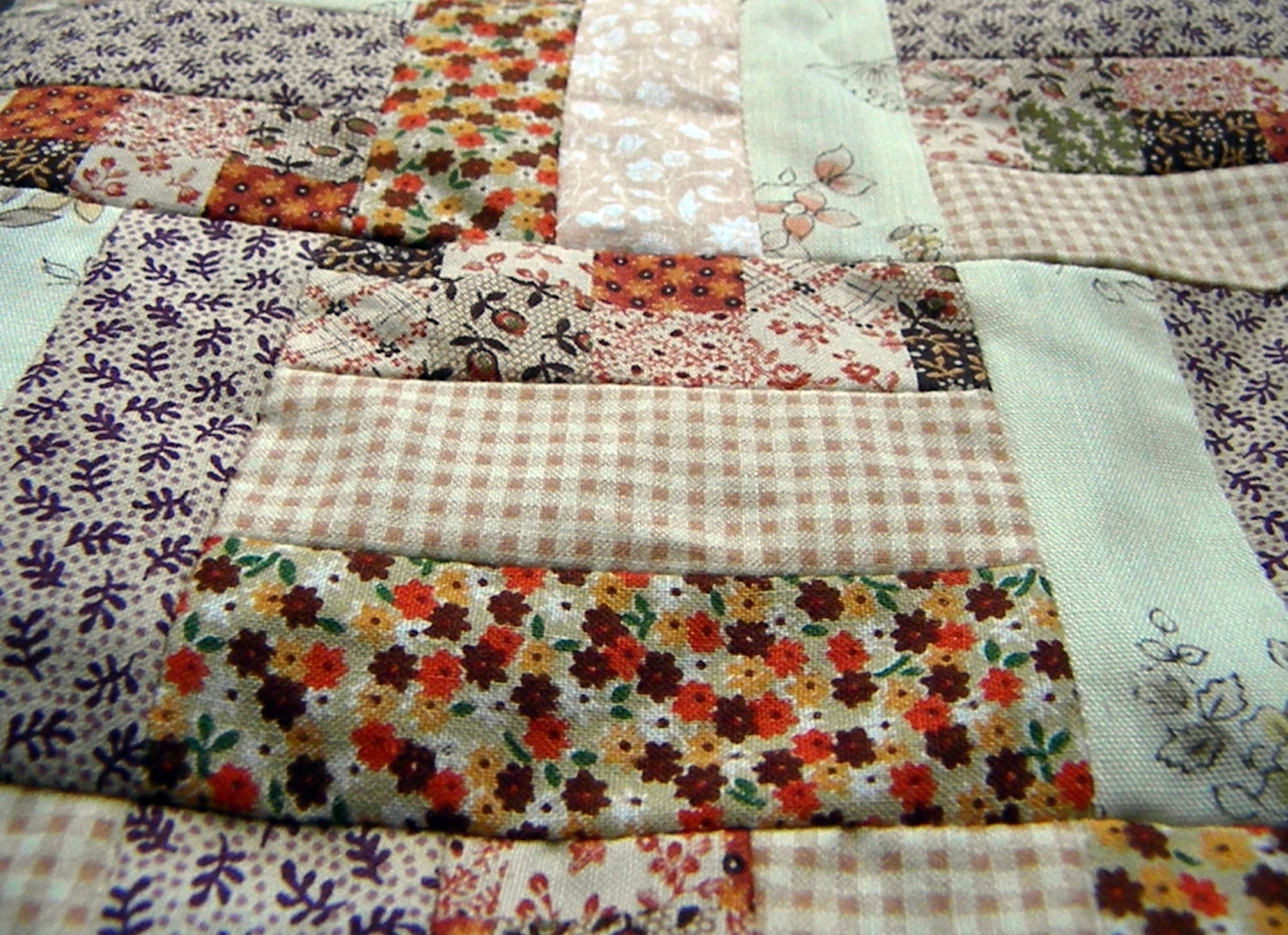 I used the ivory fabric for the back (it has pretty butterflies on it!), and the tan w/ brown leaves for the lining.
This measures about 12" x 9", and I have enough cut for *at least* six bags. Wow--that's a lot! I might make some of them into larger bags--maybe even with quilted pockets!
So, those are the new totes for the week! After I finish more aprons, I'll probably sew up a few more designs :D